What's so special about Final Cut Pro anyway?
The honest Final Cut Pro review: pricing, pros&cons, features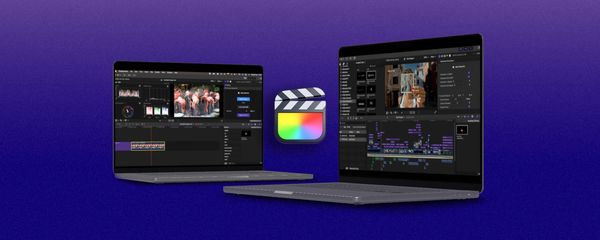 Final Cut Pro is one of the best professional video editing tools used by professional filmmakers worldwide. Among the films edited in the app, you'll find "The Silent Child" (2017),"Focus" (2015), "The Banker" (2020), and "Skin" (2019). Final Cut Pro evolved tremendously in recent years, capitalizing on its strengths and uniqueness and offering effortless editing with unlimited possibilities. Over the past decade, it has become the benchmark software among Mac users.
But enough praise, let's get down to an honest Final Cut Pro review, so you can decide whether you should make a switch to this software.
Interface

Trying to meet as many editors' needs as possible, other apps added features, buttons, and tabs. This often resulted in a cluttered workspace, which raised the entry bar for beginners and gave seasoned veterans a headache. The bottom line is — workflow was required to be adjusted to the software. On the contrary, the Final Cut Pro interface was always adapted to the expected workflow. With everything streamlined and unnecessary clutter out of the way, the app is newcomer-friendly. The timeline is the focal point, the library viewer, inspector, and effects where you need them. Advanced features are hidden, so the user gradually discovers them when more juice is needed. Add various easy-to-use presets, and you get a perfect tool for beginners. It's easy to try FCP for the first time, get the hang of it, and develop your skills. Tools like magnetic timeline make it straightforward to move and trim clips without affecting the rest of the video. Instead of focusing on time and its correlation to clips (as does track-based software), FCP positions each clip in respect to another. After all, it's all about storytelling. Magnetic timeline presumes there shouldn't be dead spaces between parts of the story (unless it's an intentional story element), so the timeline automatically "ripples," and all the relationships between story elements are preserved.
Performance
Final Cut Pro is easy on beginners, but its complexity scales as needed, and the software is also used by top-notch editors who require a lot from their tools. And it can provide more than enough — exclusivity to Apple machines is a blessing in disguise, as it allows the app to be natively optimized for the hardware. That means that working with 4K or 8K footage is no problem, multiple layers of video or graphics are handled without slowing down or heating up, and rendering does not take forever. It may be surprising, but Apple makes it possible to start editing on a budget. Instead of buying powerful GPU-centered PCs starting at $1500 and higher, you can go with Mac Mini on M1 with just 16GB for around $900 and be able to work with 4K video without overheating the neighboring district. Important note: FCP will work on Intel-based Macs, but you'll need macOS Big Sur or later, 4GB of RAM, a Metal-capable graphics card, 3.8GB of free disk space, and 1GB of VRAM.

Final Cut Pro is faster than other editing programs in most editing and exporting tasks. Nothing beats a well-optimized app. Moreover, FCP is a very stable application. It rarely manifests errors and automatically saves and backups your projects — you can close the program at any time, and your project will be safe.
Pricing
Another aspect we like is the pricing strategy — the software is available as a one-time purchase. You pay once and get the app and all free updates to come. It can feel like a hefty sum, but if you plan to get into filmmaking for at least a year, the price beats the competitors' monthly subscriptions. And don't forget the 90-day free trial during which you can use Final Cut Pro almost to its full extent, save for some additional effects which can be done without at the start.
Special effects
Finally, our favorite thing about the FCP environment is the continued ability to create groundbreaking templates and plugins, which can change almost every aspect of a video. Our wide array of products, including trackers, 3D effects, filters, and typography presets, really demonstrates the app's flexibility. Lastly, we would like to mention the ability to import and edit 360-degree video from equirectangular images stitched together from several cameras, as well as multicam editing with support for mixed frame rates, formats and up to 64 camera angles.
Would we recommend using FCP for your video editing? It may depend on your goals, setup, time constraints, and experience, but the advantages are apparent. Is it a solid program you would not regret using? Abso-freakin'-lutely.