MKBHD, top tech YouTuber, shares his video-editing tricks in a plugin released by MotionVFX
More than behind the scenes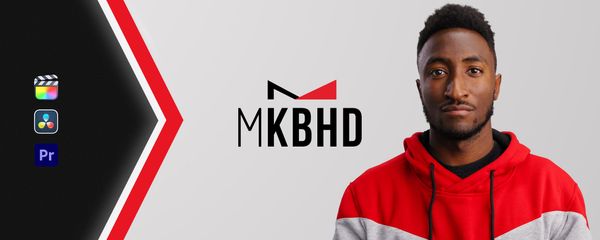 What happens when one of the most influential YouTubers teams up with a wild bunch of creators of video editing plugins? A video editor's wet dream: tricks and effects used by a YouTube sensation while climbing all the way to the top, neatly streamlined and packed into a versatile toolbox to choose from. Meet the official mKBHD plugin (lowercase "m" is intended → see explanation below)!
Marques Brownlee, known as MKBHD, went from a teenage kid posting videos about the insides of his first HP laptop to a YouTube star interviewing personalities like Elon Musk, Bill Gates, Mark Zuckerberg and Barack Obama. Often called one of the best tech reviewers and most influential YouTubers in the world, he undoubtedly owes his popularity and success also to the style of his video edits and producing top quality video content. In fact, he even runs a secondary, behind-the-scenes YouTube channel — The Studio — where he shares some of the tricks he uses to make his videos more appealing.
"When MotionVFX reached out to me pitching the idea to make a video editing plugin together, it was a clear 'Yes!' from the start. I've been using their video editing plugins and templates for 7 years, and the thought of having all my favorite effects packed into a ready-to-use plugin was just exhilarating. Not only would this save a tremendous amount of time for me and bring value to lots of people, but it would be signed with my name. How awesome is that?"
— says Marques when asked about the cooperation with the software company.

Andrzej Basiukiewicz, the co-CEO of MotionVFX:
"The entire idea just seemed such an obvious thing to do. Showing video creators they can achieve more and aim for content quality you may think is reserved for million-dollar budgets only — that's simply what we do on a day-to-day basis. And to be able to showcase that with the best tech YouTuber in the world — to say: 'Look, these things happen, and here are the tools for you to reach the top' — that was just the thing to do! There was one condition, though: the plugin was to be spelled mKBHD (lowercase initial m) as both a pun and a reference to our company tradition: all of our plugins, like mTuber, mFilmLook or mTracker 3D, follow that pattern. That was non-negotiable and MKBHD agreed."
As MotionVFX co-CEO says, it's also crucial to note that the mKBHD plugin is by no means a result of a simple branding collaboration, where a celebrity lends their name to promote a product. MKBHD has cooperated with the team of MotionVFX coders and motion designers — all in order to help both professionals as well as aspiring YouTubers to use a little of that MKBHD magic on their edits.
Available for Final Cut Pro, DaVinci Resolve and Adobe Premiere Pro, the software will include 51 ready-made presets enabling creators to apply MKBHD's favorite effects and tricks in a drag&drop manner, with the purpose of saving time and effort. The release is due to take place on April 20, 2022.

About MKBHD:
Marques Keith Brownlee, known as MKBHD — one of the best tech reviewers and most influential YouTubers and podcasters in the world, with his primary channel boasting over 15 million subscribers and nearly 3 billion total views. A complete tech-head and also a professional ultimate frisbee player in the American Ultimate Disc League (New York Empire).
About MotionVFX:
Founded in 2009, MotionVFX is a team of over 50 people, who are leading creators of top-quality video editing plugins and templates on a never-ending mission to provide video content creators with cutting-edge, state-of-the-art solutions to make their edits blow minds and drop jaws.