4 FREE Final Cut Pro effects you better have and use
Everybody wants to stand out… make sure you really do!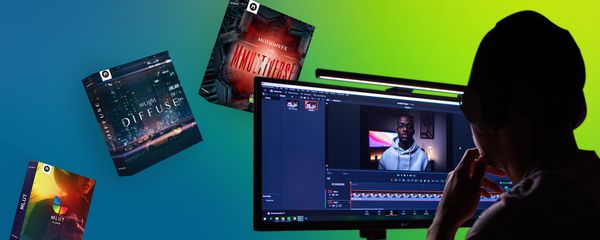 We know few things better than freebies — as they say, Free is the New Black! Problem is, it's quite unusual to find quality products available for free, and even if you try that, you're bound to lose a lot of time. Time is money, and the circle closes, so… let's break the circle!
Cause there surely are free premium plugins.  Have a look at this handy list of our best free FCP effects. Let's roll!
Automatic Camera Animation
Presenting your footage from various angles and positions requires hours of keyframing, right? It does… unless you get mCamRig — one of our most popular free plugins!
Enjoy the handy on-screen controls, adjust the zoom in the Inspector, set the camera along any axis to get a more dynamic look, turn the in/out animation on and off, wriggle the camera movement, pixellate — there are many more options to explore!
The mCamRig free plugin has gotten quite a lot of praise from video editors and creators over the years — watch the trailer and get it for free!
Blockbuster Effects for Free
Blockbuster effects can only be created with blockbuster budgets at your disposal? Ekhem… check out our free mMultiverse plugin, and you'll quickly realize why the company accountant shouted it was madness that we let it go for free. We even had to call a doctor. Strange, wouldn't you say?
If you're getting a strange feeling that you may be dealing with a set of astonishing presets inspired by the Doctor Strange movie, you're not entirely wrong —you are entirely right. There's the anamorphic effect, three different LUT options, trademark effects like "Spell" and so on… Oh, yes, the mandala shield is there, too. Do we have to tell you should check it out, especially since, er, it's a free plugin? Here's a trailer for your viewing pleasure!
Professional LUT Loading Tool
Manage your LUTs with ease and enjoy the perfect editing experience at the same time thanks to our free, professional LUT loading tool — this is what the mLUT Plugin is all about.
Grading your footage in pursuit of that cinematic feel is definitely a tricky business… but also a rewarding one! This free plugin will help you get the job done with minimal effort and maximum ease — no wonder is the most often downloaded plugin in our store ever. Check the trailer!
Luma Matte Transitions
All right, transitions time now! And what we've got for you as a free token of our support for your creative endeavors will be one of the most widely used transition effects, which you'll be able to use (and hopefully not abuse) thanks to our free mTransition Luma plugin.
Four different transition modes, adjustable parameters, smooth workflow — make no mistake, it's not a "hey-it-even-may-work" freebie, it's our plugin with all strings attached, quality in particular. Check out the trailer, and give it a go!
Get to know the plugins mentioned above and you'll quickly learn quality and value don't have to come at a huge expense. In fact, they can come at no expense at all!
Hope you enjoyed that, stay tuned to our content — more recommendations (freebies and others) are soon to come.
Keep creating!